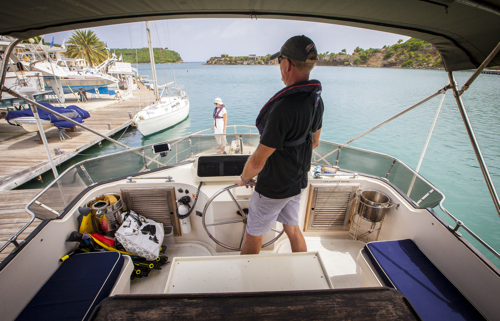 NOTICE: We plan to resume all RYA Motor Cruising Courses in late summer 2023. Please contact us for more information.
RYA Yachtmaster Motor
The RYA Yachtmaster Offshore is one of the most highly respected and prestigious sailing qualifications in the world and we pride ourselves on training many high calibre Yachtmaster Candidates.

Exam Preparation Courses are delivered by one of our fully qualified and extremely experienced RYA Yachtmaster Instructors. The week starts with an assessment day, when the instructor will gauge your strengths and weaknesses.

The rest of the time will be spent improving weak areas in order to prepare you for the exam. You will take command of the yacht on short passages, by day and night. You will be required to navigate in a seamanlike manner, with both efficiency and safety. Your instructor will give you guidance and coaching on boat handling techniques both at sea and in a confined space.

Examiners expect a high level of expertise, particularly in safety critical exercises such as man overboard, or sailing down wind. Your instructor will also ensure that the theory subjects, in particular meteorology, IRPCS, buoyage and passage planning are not new to you. At the end of the week, you will be given an honest debrief, leaving you confident in your own ability, taking the exam if you feel ready to do so.
At the end of the preparation course, the instructor will leave the process and an Independent RYA Examiner will come aboard to conduct the exam. Every student will be examined on how they skipper the yacht on short passages, and complete various other tasks.

The preparation is normally 3 days onboard but as the examiner will expect a high level of mechanical knowledge of a general and vessel specific nature then completing one of the Engineering courses is highly recommended.
During the exam you can expect to give the examiner a guided tour of your engine room. He/she will expect a detailed knowledge of your equipment and may ask searching questions about the operation of specific machinery. For instance, you may be expected to be familiar with the operation of a turbo charger and charge air cooler even if the exam vessel is not fitted with any. The same may be true of fuel switching systems between tanks and engines or the use of day tanks. Be aware of how much fuel you carry and your cruising range. Make sure you can explain the oil, air, fuel, salt and fresh water systems and show the examiner where all the lines and hoses go.
You will be expected to be able to handle the boat efficiently in a confined area and be able to berth in a variety of situations. This may well include berthing on one engine (in a twin engine vessel) and berthing without the use of the bow thruster if fitted. Under way you will be examined on your high-speed navigation. Make sure you know where you are and where you are going at all times. The power exam may well have more emphasis than the sail equivalent on GPS and radar navigation so make sure you are familiar with the equipment on the exam vessel.
$1800usd pp.
https://www.ondecksailing.com/wp-content/uploads/2019/10/IMG_4801.jpg
333
500
Alison Sly-Adams
https://www.ondecksailing.com/wp-content/uploads/2019/06/logo-300x138.gif
Alison Sly-Adams
2019-08-13 07:21:42
2023-06-07 13:50:37
Yachtmaster Offshore Motor