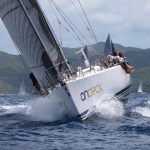 Its been a hectic summer in the Caribbean and we apologise for the lateness of this newsletter but with two unprecedented Cat 5 hurricanes Irma and Maria it has taken a little time to get an accurate picture of the regatta programme for 2018
So the news is Antigua and the Caribbean are open
None of the major regattas have been cancelled and all have announced a normal programme of racing and events so starting with Mountgay Barbados in January and finishing with Antigua Sailing Week in May we will be racing at all of the regattas this season.
Each regatta reflects the uniqueness of each of the Caribbean islands and offer different sailing experiences often with some lengthy deliveries allowing guests to build some ocean miles
Spirit of Juno is our 'head boat' so prospective racers can join as individuals or small groups and offers positions for the experienced and inexperienced She had a good 2017 with new race sails and podium positions at many regattas. Joining Juno is a great way to learn the 'racing ropes' as well as experience the social side of many beautiful islands with mixed and very international teams.
Many regattas offer the opportunities to do the deliveries and build some miles and passages for those looking for a little extra adventure
We also have Beneteau first 40.7's available for whole boat charter and access to a wider fleet of Grand Soleil's, J's and First 40's
Dates for the regattas are as follows and include training days
Mount Gay Round Barbados Race Series 16th – 21st January
Grenada Sailing Week 28th January to 3rd February
RORC Caribbean 600 14th – 23rd Feb
St Maarten Heineken Regatta 27th Feb – 3rd March
STIR St Thomas International Regatta 21st – 25th March
Bequia Easter Regatta
BVI Spring Regatta 27th March – 1st April
Les Voiles de St Barths 9th – 15th April
Antigua Sailing Week 27th April – 4th May
Antigua to Bermuda Race 7th May –
Next 5 year regatta schedule https://www.ondecksailing.com/pdf/Ondeck-Caribbean-Regattas-2018-2022.pdf
The post The 2018 Caribbean Regatta season appeared first on Antigua Sail Training.
https://www.ondecksailing.com/wp-content/uploads/2020/09/asw17-3896-V56tnL.jpeg
150
150
Colin
https://www.ondecksailing.com/wp-content/uploads/2019/06/logo-300x138.gif
Colin
2020-09-07 10:27:11
2020-09-07 10:27:11
The 2018 Caribbean Regatta season