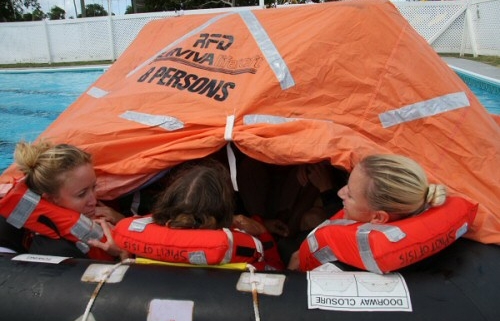 Personal Survival Techniques (PST)
This is a one day course and gives you the introduction of what to do should you ever need to abandon ship and take to the liferaft. The course covers basic survival afloat, what to take with you and how to best survive whilst awaiting rescue. The practical part of the course, takes part in the sea where you will don on a lifejacket and practice your skills in and out of the liferaft.
It is one of the modules of the MCA Basic Safety Training and relevant for both professional and leisure vessel users
You will be required to wear your swim suit, shorts a, whilst completing the pool session. Please also bring a towel.
The aim of the sea survival module is to provide seafarers with the essential education and training in personal survival techniques to maximise the chances of survival in the event of an emergency or abandonment
Subjects covered in this module include:
Emergency situations such as collision, fire and flooding.
Different types of life-saving appliances carried on ships.
Equipment in survival craft.
Location of personal life-saving appliances.
Principles concerning survival at sea.
Donning (putting on) a life jacket.
Immersion suits.
Safely jumping from a height into the water.
Righting an upturned life raft while wearing a life jacket.
Swimming while wearing a life jacket and keeping afloat.
Boarding a life raft from a ship or the water while wearing a life jacket.
Taking initial actions on boarding a survival craft to enhance chance of survival.
Streaming a sea anchor.
Recovering an injured person to a survival craft.
On completion of this course the student will receive an MCA approved STCW certificate in Personal Survival Techniques (STCW Regulation A-VI/1-1).
$245usd pp. Please click on the 'Training Dates & Booking' button on the right to check available dates.
https://www.ondecksailing.com/wp-content/uploads/2019/12/D.jpg
333
500
Colin
https://www.ondecksailing.com/wp-content/uploads/2019/06/logo-300x138.gif
Colin
2019-07-04 14:14:56
2023-09-25 16:58:23
Sea Survival