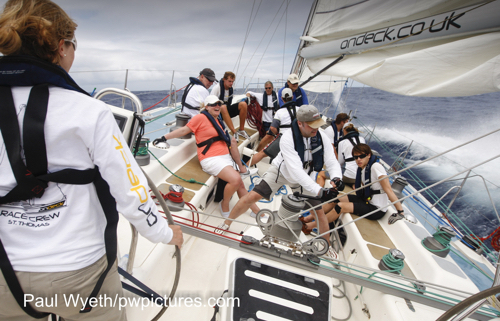 Barbados Sailing Week is on and offers a unique mixture of ocean sailing, racing and an unbeatable Bajan welcome!
Regatta Programme: Wednesday 17th - Monday 22nd Jan
Wednesday 17th - Training day & Skippers briefing
Thursday 18th - two coastal races.
Friday 19th - Lay Day
Saturday 20th - Two coastal races
Sunday 21st - Mount Gay Round Barbados Race & Mount gay Red Cap Party
Monday 22nd - Awards ceremony and After Party
We depart Antigua 14th January for Barbados for a 360 nm sail.  People who are interested in doing the entire 1100nm of the Antigua to Barbados to Grenada to Antigua (ABGA), can combine the deliveries with racing and build invaluable experience.
24th January sees the start of the first inaugural Rum to Spice Barbados to Carriacou Race which will also position us for Grenada Sailing Week.
Barbados Sailing Week is a regular for Ondeck. Also see below for taking part in the whole Antigua - Barbados - Grenada - Antigua circuit.
Spirit of Juno is our 'head boat', meaning that individuals or small groups can join the team for an event. We normally have 2-3 pro crew on board, so can take a mix of experienced racers as well as a few novices.
She is a physical yacht with no powered winches so there are plenty of jobs, even for a big crew, and you will not be 'rail meat' as we try and involve our guests in many of the roles on board.
She usually achieves podium positions at the major regattas and attracts a strong and loyal following with many strong friendships built.
We also have Blueprint, our First 36.7, available with new race sails. She is available for whole boat charter only.
The programme for January and February is provisional but we anticipate that it will follow the programme below. Deliveries and Regattas can be booked individually on a modular basis
Click here for the official website.
For those wishing to stay on and do the Grenada Regatta check out the page there with further opportunities to build miles and some long passages
Cost for individual places on Juno are US $1925. Delivery legs are $275 each or no charge if you do the full circuit and both regattas at $1925 each
For booking, please click on the 'Regatta Dates & booking' button on the right or 'Contact us!' for more information.
Doing the whole circuit below is a fantastic opportunity to combine racing , longer ocean passages, night sailing, 3 islands, training and mile building
---
Included In Charter:
All dockage fees, fuel, tank water, comprehensive shore and maintenance support, event management, race entry, accommodation on board if required, lunch when racing, provisioning on deliveries.
Exclusive Of Charter:
Flights, transfers, meals not specified above
If you have any questions please give us a call on the number above or complete the enquiry form below and we'll get back to you.
* Please note that Ondeck is not responsible for the content of external internet sites
https://www.ondecksailing.com/wp-content/uploads/2019/10/12.jpg
333
500
Colin
https://www.ondecksailing.com/wp-content/uploads/2019/06/logo-300x138.gif
Colin
2019-06-26 17:34:23
2023-10-09 10:19:59
Barbados Sailing Week